The Most Important Transition In Life
Deserves The Most Attention
THDC's NATIONAL COLLEGE PROGRAM MEETS THE NEED
---
R.E.A.L. – An 'Inclusive' Resident Life Program Based on a New Understanding of Love
THDC's answer is R.E.A.L., a program that guides young adults who live on campus and at home during this most promising and challenging period of their life. The program was inspired by THDC college interns.
---
What Our Interns Have To Say

-

"The Work Transformed My Life For Good."
We have had over 50 interns in the past 5 years who have learned and used concepts of awareness, vision, communication and loving behaviors toward self and others. This is what some of them had to say -

---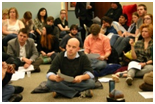 Bringing R.E.A.L. to your campus
Find Out How Easy and Cost Effective R.E.A.L. really is.
THDC-Proposals for Colleges and Universities

---
To Fully Develop Young Adults They Still Need the Nourishment from 'Mother's' Love
The Process of Abandonment Begins During The Teenage Years and Culminates During The College Years.

---
Volunteering